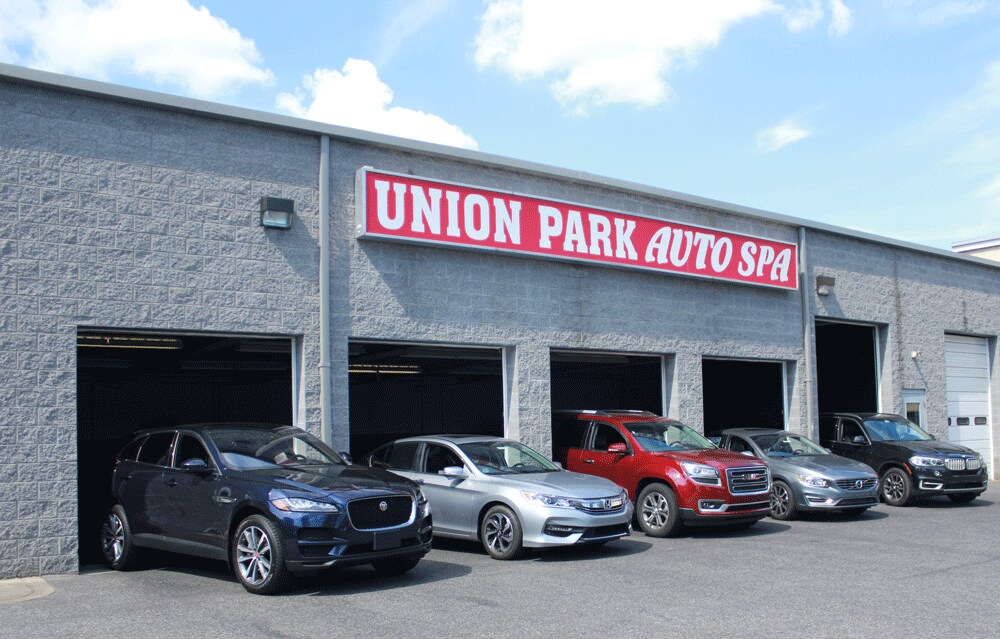 Pamper and Protect Your Investment at Our New, State of the Art Auto Spa in Wilmington, DE
Rejuvenate your ride at Union Park Honda Auto Spa in Wilmington, DE. We understand that a simple car wash isn't always enough to get everything on your car as clean and shiny as you want, so we made it easy. We offer comprehensive auto detailing services that include everything from a hand wash, wax, detailing inside and out, and more. No matter what kind of car you drive, keeping it clean helps it run efficiently in Hockessin.
Drivers from Newark to Newcastle can have their vehicles detailed by selecting one of our packages, as well as additional services you can add to your auto spa day. Our trained auto detailing professionals are experts in auto detailing for any make and model car, van, truck, and SUV, and specialize in exotic and classic sports cars.
Our detailing services include a simple car wash and wax to a full restoration process. We take pride in how well we care for your car and aim to provide only the best service. Our materials and equipment are gentle, modern, and provide only the most efficient, high-quality detailing.
Hand Wash
Our hand wash option is a comprehensive car wash service that includes special cleaners for the wheels and gets into every crevice an automated wash will usually miss.
Vehicle Pre-Soaked & De-Bugged. Washed by Hand
Wheels Cleaned & Tires Dressed
Spray Wax Applied
Console and Dash Dusted
Windows Cleaned Inside and Out
Vehicle Interior Vacuumed
Trunk & Cargo Area Upon Request
Wash and Wax
The complete hand wash package with a wax finish; an excellent way to keep your paint protected from the elements.
Hand Wash
Carnauba Wax Applied by Hand for Protection
Interior Detail
Whether you're a car enthusiast or not, your car's interior is where you spend much of your time. You may clean it periodically, but a comprehensive detailing will cover every spot you may overlook. Even if you like to wash your car, it's nice to hand the job off to someone else while you relax.
Hand Wash
Shampoo and Steam Extract Carpets, Floormats and Fabric Seats
Clean and Dress Interior Vinyl and Leather (if applicable)
Headliners Spot Cleaned Upon Request
Add Hand Wax for an Additional $44.95
Exterior Detail
An exterior detailing service will get every spot on your car, from top to bottom and front to back, clean and free of any road debris, tree sap, or rain residue.
Hand Wash
Buffing and Polishing Paint to Remove Swirls, Light Scratches and Minor Imperfections
Carnauba Wax Hand Applied for Protection
Vinyl Dressing Applied to Outside Textured Moldings
Full Detail
When you choose a full detail, you'll get the full-service interior and exterior detailing to make sure there's no part of your car left untouched.
Combination of the Interior and exterior detail service
Headlamp Restoration
Night driving will be clear with our headlamp restoration detailing service. We'll restore and protect your headlights from scratches and UV rays and make your dull light covers look transparent and shiny again.
Removal of Hazing and Oxidation to Restore Clarity
Wet Sanding, Buffing and Polishing Procedure
Finished with Carnauba Wax for Protection
Additional Services Offered:
Road Paint and Tar Removal
If your car's paint job appears a little faded or scratched, we'll make it look as good as new with a paint touch-up. Tar and other substances on the surface of your vehicle are removed by one of our expert technicians.
Touch Up Paint
We'll restore the color and shine to your car's exterior while also protecting it from the elements. Whether you're looking for a minor touch-up or full coverage, we'll do it all at Union Park Honda Auto Spa.
Spot Buffing
Paint imperfections are no match for us! We expertly remove small scratches and blemishes from your vehicle's exterior and make your car look new again.
Odor Removal
We offer odor removal as part of our detailing services for those times you accidentally spill coffee inside, stinky restaurant food, or even your wet dog. Some odors are tough to remove, but for us, it's easy.
Tint Removal
Our team safely and effectively removes window tinting for all vehicle body styles.
Pointless Dent and Door Ding Removal
No one wants to see even the smallest dent or door ding on their car. Our Auto Spa techs can fix these imperfections so you can forget they were ever there!
Contact us to create Your Own Custom Detailing Package.
Call Us for an Appointment!
(302) 429-5611
​Monday - Friday: Until 9 pm
Make an Inquiry
* Indicates a required field
Hours
Monday

7:00AM-6:00PM

Tuesday

7:00AM-6:00PM

Wednesday

7:00AM-6:00PM

Thursday

7:00AM-6:00PM

Friday

7:00AM-6:00PM

Saturday

8:00AM-1:00PM

Sunday

Closed